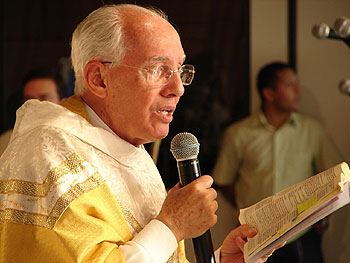 1. Read the Bible Every Day
The first rule of thumb: Read the Bible every day, without exception. Read when you have the will and when you don't as well. With or without the desire, we drink, because it is necessary. With the Bible it is the same thing. And in the times that we live, it is important!
Thus as you nourish the body every day, nourish daily your spirit with the Word of God. So as you take a show every day and when we cannot do it in the morning, at night the body asks for a shower, so also happens with reading the bible. if you are not able to read during the day, without you knowing it your spirit will be asking for a bath in God's Word. Be sure to give to your spirit that which you give to your body!
There are people that cannot sleep without taking a shower; these person toss and turn in bed unable to sleep. That you and I may be the same, that we cannot sleep without a bath in the reading the Word of God.
2. Have A Regular Hour for the Reading
For a great many persons, the best hour to read is early in the morning. They get up early in order to read the bible and do their work in their Spiritual Diary, before the others and before movement in the house begins.
It is treated as a marvelous custom. It is certainly that which yields the most. Furthermore, it has the advantage of beginning early a super meal and we begin the day with full force.
There are, therefore, those who may difficulties doing this, They are person that through the morning feel heavy, tired. It appears that their head is not functioning. They cannot concentrate. It is not before making attempts, but they stop to spend time resting a bit.
Nothing strange about that. There are many people like this, perhaps you may be one of them. These persons may be tired in the day, but at night their mind remains alert, active. If for you the good period is at night, don't hestitate work with the Bible at night.
Doing this also has advantages. You prolong reading until the hour that you want to go to sleep, with a good content in mind. And your subconscious certainly will work with this material.
For many mothers of families, the best moment is the middle of the afternoon, after ending the housework. In this hours they are quiet, there is not a lot of noise nor movement in the house, this permits them to work with the bible.
The important thing is to discover the best period for you. And to do this is your hour being faithful without exceptions.
3. Schedule the Length of the Reading
This is the other rule of thumb; Schedule the duration of reading and be faithful to it. Be serious with yourself. It is preferable 10 minutes each day done with enthusiasm at the beginning than not doing it at all.
Many person in the beginning demand a lot of themselves, finally of doing with seriousness and consistency this work. Now if they confess satisfaction with the fact that passing certain time they will feel an involvement and a motivation that makes discipline no longer a necessity. Of the same mode, giving the rigor with that which they face  this time for reading, today they perceive that it is becoming shorter. They need more time, the work leaves them wanting more. Too bad this this is not always possible.
4. Choose a Good Place
Having the corner of people is very good. And We don't need anything special; the which is important is counting on a quiet place, silent that makes concentration and favors the creation of a climate of prayer. Do well, going every day to our corner and in it doing the work with the Bible.
Remember, still, that the place is the second things; it is only a means for us to work better and with better results. Also important is that whatever place and whatever circumstances, to realize with dedication our work.
5. Read With a Pen or Pencil in Hand
Do not simply read; we need to do active reading. A simple, more efficient method is to read with pen or pencil in hand. Underline the passages most important, all that call your attention, the things that speak to you and that touch you in a special way. It is also good to have a pen with four colors and using one or the other. This helps to make highlights and to differentiate passages.
Utilize signs that you have felt for yourself, make annotations, do not fear of marking your Bible. It is an instrument of your work. If you keep a Bible wll marked, it will be easier for you to remember passages that you encounter when you seek them. It also facilitates concentration on the reading, the understanding of the message and the impression of the which is impressed in the mind and in the heart.
6. Do All in the Spirit of Prayer
You are not only reading the Bible, you are seeking an encounter with the Word of God. This to procure an intimate contact with the Living Word of God, that speaks to you.
Treat it as a dialogue: you listen, you reach out, you are touched, and your respond. It is a living encounter between living persons, an encounter of persons that love each other mutually. Many experience this relation, You experience it too.
The principal interest of God is not to make you listen, but to speak with you. He desires to instruct you, and wants to drive you to the understanding of truth. Therefore be attentive, remain alert; maintain yourself in an expective attitute, God has something good, personal and concrete to say to you!
Monsignor Jonas Abib
Founder of the Canção Nova Community and President of the John Paul II Foundation (Fundação João Paulo II). He is the author of many books, thousands of talks in audio and video. His  website is www.padrejonas.com
Trecho do livro: A Bíblia no meu dia-a-dia
Translated from Portuguese