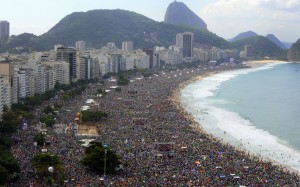 Recently, I made a fantastic ecclesial experience at World Youth Day in Rio de Janeiro. Around the Pontiff, people from all over the world met for only one motive: To Praise and to adore God!
The people were not united by one language or nationality, but were united by Christ, with Christ and in Christ. All the differences between nationalities fell to the ground, when we spoke the language of love.
In this moment, I saw WYD as a prefiguration of the Civilization of Love in which we will live in eternity joined to God in perpetual adoration, all equal without distinction of language, social class, race, etc…
We are certain that this Civilization of Love already has become here, when we live the true love of Christ.
Therefore, I say without fear, that I made the experience of WYD as an anticipation of Heaven here on Earth. For it is thus that we will live in Heaven, all united in the Love of God.
Strong Embrace!
Ademir Costa
translated from Portuguese