Our reference is Jesus who is in the poor, in the sick, in the suffering, in the humanity in which we live
"Mary, taking almost half a liter of pure and very expensive spikenard perfume, anointed Jesus' feet and wiped them with her hair. The whole house was filled with the perfume of the balm "(John 12: 3).

Mary is the one who stood at the feet of Jesus; Martha was serving and Lazarus was at the table. Mary stood at the Master's feet giving everything she had: her love, her heart, her feelings, her affections, her material possessions. The most expensive perfume one could have, she placed on the feet of Master Jesus.
Mary is the disciple who surrenders to the Master, is the disciple who in love with Jesus, surrenders all her heart. On the same side are the disciples of Jesus, but one of them is striking, because he finds scandalous what Mary is doing: an expensive perfume being placed at the feet of Jesus. And in a false spirit of caring for the poor, but a hypocrisy, she said: "What she is spending at Jesus' feet could be used for the poor."
We will always have poor people among us to care for, and we can only take care of the poor when we take care of Jesus when we are at His feet. It is not to despise the poor; on the contrary, we must first go to Jesus' feet to know how to serve poverty, which is the humanity in which we live.
We do not do welfare work, we find Jesus at our feet and put ourselves at His feet to worship Him, to give ourselves completely to Him, to find the poor person of Jesus in the poor. Therefore, the first attitude of the poor is always to put themselves at Jesus' feet.
We can not fall into that view that we do much for the poor or that we work on the streets. The first place we address is at the feet of Jesus, we worship Him and put ourselves entirely at His feet. When we do not do this, we lose ourselves in what we do, we lose ourselves in our work, in our obligations. We get lost because the reference is missing.
Our benchmark is Jesus who is in the poor, the sick, the suffering, the humanity in which we live. We find Jesus in each one, so we do not disappoint ourselves, we do not get hurt and our heart will not hurt for anything when we have a point of reference. Our benchmark is always to be at Jesus' feet!
God bless you!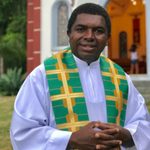 Padre Roger Araújo
Priest of the Canção Nova Community, journalist and collaborator of the Canção Nova Portal . Contact: padrerogercn@gmail.com