God does not deceive anyone.
He is the Truth, therefore, His words are always true
In this "Light of Faith" program, I want to reflect with you on number 215 of the Catechism of the Catholic Church, which teaches us the following:
God is the Truth
215. "The beginning of thy word is truth, thy standards are righteousness for ever" (Ps 119:160). "Yea, Lord God, thou art the God, thy words are truth" (2Samuel 7:28); that is why the promises of God always come true. God is Truth itself; His words can not deceive. That is why we can confidently surrender to the truth and faithfulness of His word in all things. The beginning of sin and the fall of man was caused by a lie of the tempter, which led man to doubt the word of God, His benevolence and faithfulness.
Look at what the Catechism of the Church affirms: God is Truth itself; His words cannot deceive.
I once filled my car at a gas station in the Vale do Paraíba region of Brazil, where I live. From driving a lot, I am well aware of the capacity of the fuel tank, how much liters will be needed to fill the tank depending on what fuel guage says, etc. Well … I went to fill my car at a certain station and I was surprised to see that the fuel pump was still working (and charging more money!) Despite the calculations I had made to fill the tank. After this episode, I decided not to fuel my car at this station.
Why am I telling you this fact? Because, on that day, I left that gas station feeling deceived, injured. It's awful to feel cheated! Is not it? Have you ever experienced this deception in a situation? Ever felt cheated by someone? How sad that is! Right?
Read more:
.: Light of Faith: Discovering smallness itself
.: Light of faith: The omnipotence of God sets us free.
.: Light of faith: There is only one God!
However, as far as God is concerned, the Catechism states with certainty that "His words cannot deceive." What good news, my brothers! God does not deceive anyone. He is the Truth, therefore His words are always true and never deceitful.
In relationship with God, one can go with confidence, without fear, without fear of being deceived. We can invest in this friendship with the Lord very peacefully. However, knowing that our God is the Truth and that we are called to relate to Him, we also need to cultivate truth in our lives. If we choose to lie and deceive others, unfortunately, we will be compacting with the one who is considered the "father of lies", Satan. And we do not want to have anything to do with him! We belong to God, because He is the Truth.
Saint Thomas Aquinas and the Flying Ox
It is said that St. Thomas Aquinas was in his cell in the convent of Saint Jacques, studying and working on obscure medieval manuscripts when suddenly a friar, who was exclaiming with scandal,
"Come and see, Brother Thomas, come and see an ox flying!"
The great Doctor of the Church, very quietly, rose from his stool, left the cell and, going to the atrium of the monastery, began to look up at the sky, with his hand in hand over the tired eyes of the study.
As he saw it, the youthful friar burst into laughter.
"Why, Brother Thomas, are you so gullible that you believe an ox could fly?"
"Why not, my friend? Said the saint.
And, with the same simplicity, flower of wisdom, he added:
"I preferred to admit that an ox would fly into believing that a religious could lie.
Let us take today the decision not to lie or deceive others. Let us be of the Truth, even if it costs us a high price, even if it costs us "blood, sweat and tears." It does not matter! Let us remain in the Truth until the end, because it is worth it.
He who is the Truth itself will at last give us His reward.
A big hug!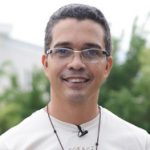 Alexandre Oliveira
Member of the Canção Nova Community since 1997, Alexandre is from the city of Santos, Sao Paulo, Brazil. Married, he is the father of two children. The missionary is also a preacher, presenter and producer of content on the 'Training' channel of Portal Canção Nova.