(This is a preaching from an event that was held at Morumbi Stadium in Sao Paulo, Brazil called Embrace Sao Paulo (Abraça São Paulo). Although the speaker is referring to Sao Paulo, Brazil, he words can apply to us in our own home cities and towns.–ed.)
Only the Lord can make all things new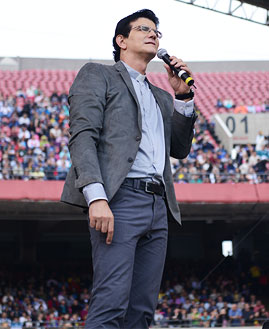 "I will put my spirit in you so revive!" Only the Lord can make a difference in our lives.
"And I saw a new heaven and a new earth. For the first heaven and the first earth was gone, and the sea is now no more. And I John saw the holy city, the new Jerusalem, coming down out of heaven from God, prepared as a bride adorned for her husband.And I heard a great voice from the throne, saying: Behold the tabernacle of God with men, and he will dwell with them. And they shall be his people; and God himself with them shall be their God. And God shall wipe away all tears from their eyes: and death shall be no more, nor mourning, nor crying, nor sorrow shall be any more, for the former things are passed away. And he that sat on the throne, said: Behold, I make all things new. And he said to me: Write, for these words are most faithful and true." (Revelation 21, 1-5)
We are facing an urgent proposal, an urgent and evangelizing embrace. I worry and I see the need to let God do new things. I see here a Cenacle, an Areopagus, men and women who wish to live and bear witness to the new life. Only he can change, only he can restore. When I sing, only he can heal, only he can restore. The worst wound is not economic, but moral, spiritual. The Lord says: "I make all things new!".
I see with concern a city like Sao Paulo: full of churches, full of Catholic people; However, the Church does not exist. People who wake up at five o'clock in the morning for work, but that cannot be an obstacle to the experience of faith. When Canção arrives, it is so that the flame is still alive and does not go out. Pray: "Lord, I have a lot of work to do, but don't let the flame of faith go out on me. On the contrary, Lord, make me a new creature thirsting for God! ".
The Lord wants us to be fervent in the spirit
To have faith is about attitude, not a mere blind and compromising instrument. Here, we can form an army of revival in faith if we are multipliers in our communities. Your downstairs and upstairs neighbors need to be evangelized. Evangelize on subways with your rosary and unashamed saying: "I love the Madonna!". Evangelizing is not anything other than enhance what we have, to value our roots.
Beloved sons, evangelize São Paulo, this great metropolis, a place of convergence, should have a single path: get to have Jesus Christ as the Center. Many come out in the morning without knowing if they return home alive. That's why we need, every day, to be in peace with God and with our neighbor. God always forgives, but we don't have to always ask for forgiveness. Today, you make all things new, for you and for me.
The Lord wants you to go home, reconciled with Him, washed and purified. Make this a meeting open to divine mercy. Children, there is a way out! São Paulo, escape! Fight with aldermen and Catholic politicians; they have the obligation to make things new. We need to demand that of them, don't cross your arms, because the Lord wants to do new things. We're not alienated, because a Christian cannot be alienated. We fight! Alienated? Not here! Fervant in the spirit and committed to love of neighbor.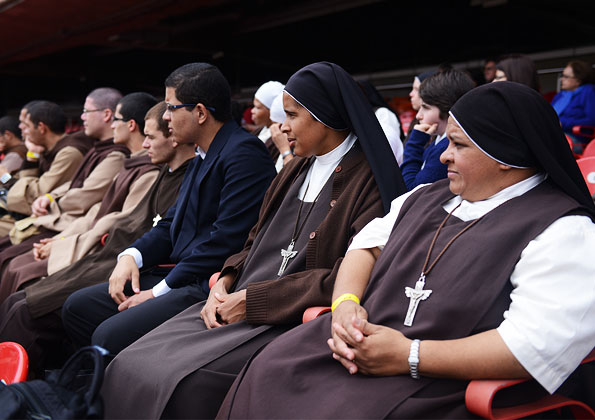 The transformation begins in us
From this macro "Behold, I make all things new," we're pulling for another thing, our family.You, that join us, your city has to be repaired from your House, your family, you.
Why do we need to go back to the prayer groups? Because God can make all things new and He does. Why we need meetings, kairos and healing retreats and Deliverance? Because we have possibility of wanting the good.
We have the capacity and ability to do good. However, inside of us, for various reasons, we leaned towards wrong things. But pay attention: I said that God can operate miracles in a unique way, however, He is gentle, serene and waits for our human nature to be prepared to receive the grace. So, the life of the Church, the life of the community, the intercession and adoration of the Eucharist to the bruised reed. He doesn't want to break but to transform. God, in his goodness, will send the breath of the Holy Spirit, blowing his grace to lead back to the things of God gradually and serenely.
Sometimes practice what does not befit God, by acting in accordance with the instincts of the flesh. When I say "the Lord wants to make new all things", He will quiet send the breath of the spirit, so I look for what is right, what is holy and divine.
Would you pray with me on that fact, that the proposal Embraces ' Sao Paulo ', so all that opens, the Holy Spirit fixes and does new things. Then say: Now, Sir, I put myself in your presence and I pray for mercy, make me a new creation, make me what you want. Lord, forgive my sorrows, my sorrows, I want to get out of here renewed. Lord, transform me, I came here in Morumbi, because I have faith.So, now Lord, cure my sorrows, make me a new creation!
What do you wants to get in your life right now? Ask the Lord to heal the sicknesses of the soul.Don't stop praying, intercediing to God, the Lord is acting, placing it on the axis. Nobody get out satiated, but leaves saying they want more. Say: "I want more, Lord!".
Now, with your hands to the sky, say: "I believe Lord, in the name of Jesus; and at this point I take possession of my grace! Amen! "
Transcription and adaptation: Anjum Malik