Brazilian families had the opportunity to hear sermons, attend masses and reflect on family values
By Rodrigo Luiz,
Special Envoy to Philadelphia-USA
On the eve of the opening of the 8th world meeting of families in Philadelphia, in the United States, which begins this Tuesday, 22, Brazilian immigrants attended a couples retreat. The meeting brought together some 80 people in retirement home Saint Katherine Drexel in Philadelphia.
Visit
.: Full coverage on the Synod of Family
At the meeting this weekend, Brazilian families had the opportunity to hear sermons, attend masses and reflect on the values of the family as forgiveness, loving and conjugal love. "Pope Francis has helped people to understand that in fact we live the experience to know, love and serve God", says the preacher, priest Moacir Silva Arantes, Advisor to the life and family Commission of the National Conference of Bishops of Brazil (CNBB).
"It's the first time that we participated in a retreat for couples," says the couple touched by the experience Francisco and Lucileia Almeida. Married for 12 years and the parents of three daughters, they are engaged in the Brazilian Community of Philadelphia. They consider that it is necessary to always be willing to grow up and learn something new to be an example for the children.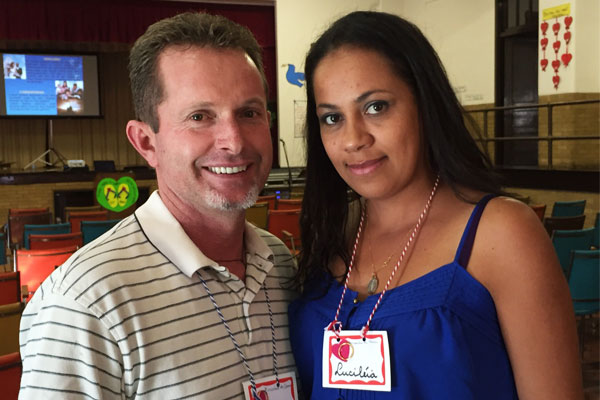 Francisco and Lucileia Almeida married 12 years, participating for the first time a retreat for couples. Photo: Rodrigo Luiz/cancaonova.com
Among the participants, Marioli Milk Marques and Nilson of Ahmed Mahmoud, who live in the US country 16 years and work as photographers and making fine jewelry. In addition to these works, the couple is dedicated to evangelization of families by means of Family and Pastoral activities related to the teams of our Lady. They travel to every city of the United States to bring the Gospel.
"What we got for free we give the couples so they renew their love through Christ. With God in the middle of the family, the values remain and the relationship is long-lasting," said Marioli Marques.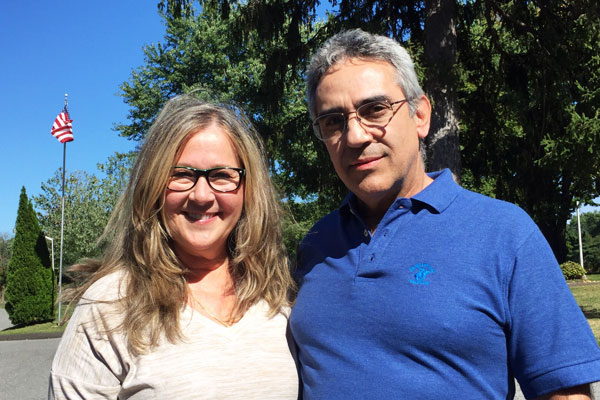 Brazilians Marioli and Nilson Marques are of Lyndhurst, New Jersey and work in Family Ministry. Photo: Rodrigo Luiz/cancaonova.com
Preparation to receive Pope Francis
Francis arrives in Philadelphia on Saturday, 26, for the world meeting of families. "There's a lot of expectation and love in receiving the Pope. It will be a great impact on American society. Francisco is revolutionizing the hearts. Even non-Christian would like to know this great person who is the Pope. We will be United and we will be a people to receive him, "Marioli.
Immigrants living in the United States amount to more than 45 million people. They await a special look of the Pope in his speeches. "We want to feel the look and the joy of the Pope, to hear what he's going to talk to us immigrants he so loves", reveals the couple who works with Brazilian immigrants.
World meeting of families
The theme of the 8th edition of the event is "love is our mission: the family is fully alive". Since its creation by John Paul II, in 1994, the world meeting of families strengthened the sacred ties of families worldwide. Sponsored by the Pontifical Council for the family of the Holy See, the world meeting of families happens every three years and is the largest meeting of Catholic families of the world